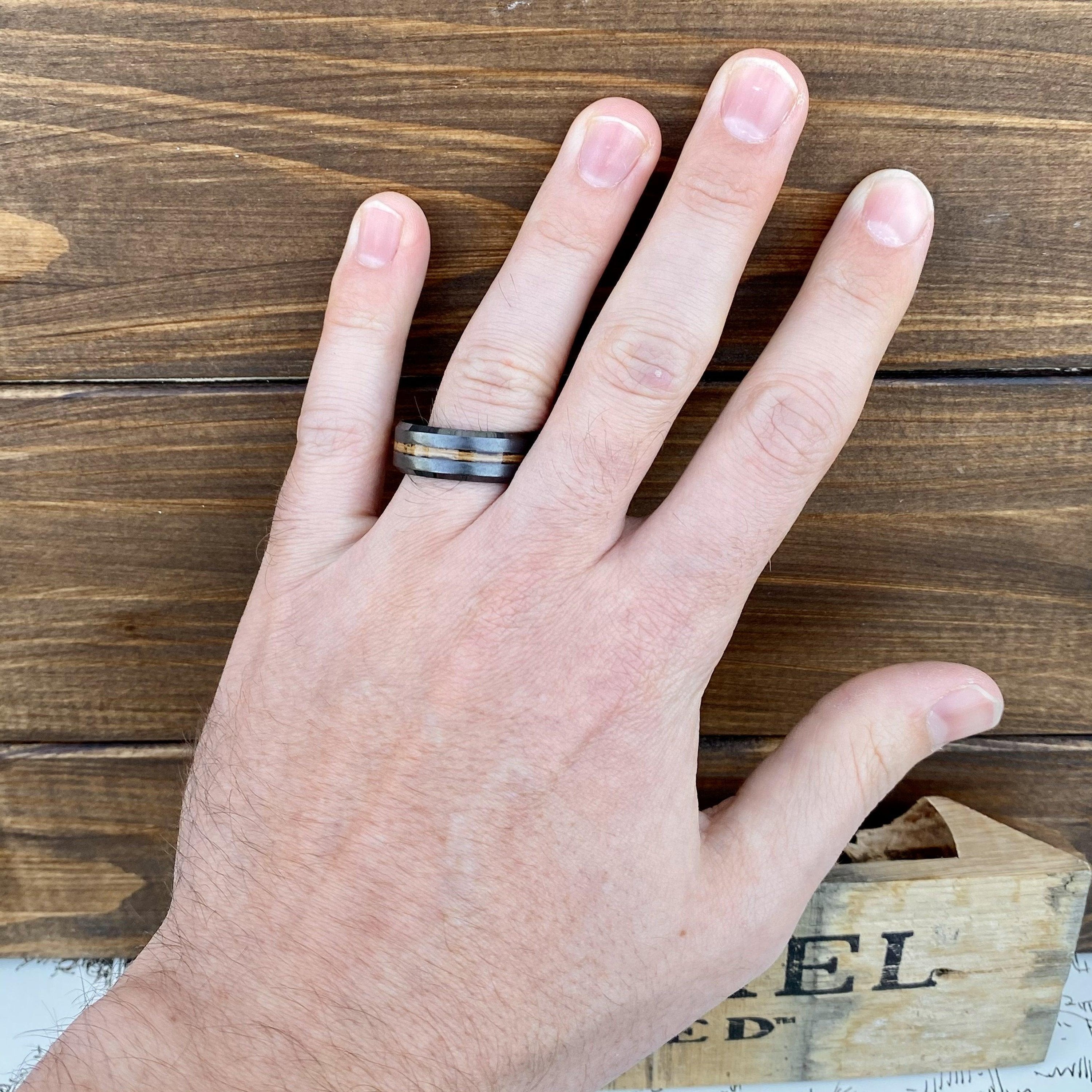 "The Night Rider" 100% USA Made Build Your Ring Black Diamond Ceramic Beveled Edge Band With Grain Finish
100% Hand crafted in Utah USA by skilled jewelers. Our Ceramic rings are extremely scratch-resistant, second only to diamonds. Ceramic rings are comfort fit and hypoallergenic. 8mm as shown with Single Malt Whiskey Barrel Inlay. 
"The Night Rider" 100% USA Made Build Your Ring Black Diamond Ceramic Beveled Edge Band With Grain Finish
Shipping Time
Shipping Time
Shipping Time:
Our ready to ship, Kentucky Bourbon Whiskey Barrel Rings And Reclaimed Whiskey Barrel Rings have a 5-8 working day delivery time. USA handmade wood inlay rings 4-6 weeks. Special order rings are delivered in 4-8 weeks. Engagement and diamond ring and diamond band production is 3-6 weeks.




Find My Size
How To Find My Size
Worried about getting the wrong size? No worries! We have options:

Option 1. 
Free Size Exchange: After you place your order, if the ring does not fit, we offer a free ring size exchange with fast free shipping both ways.* 

Option 2. (Recommend if you do not know your size) 
Select "Hold Order Send Sizing Kit" as the finger size when
making your purchase, then will send you a free sizing kit before we finalize production of our ring, once you receive the ring you can submit your size to us and will ship out your ring.  

Option 3.
Print out sizing kit. This is also a great option if this is an upgrade ring, you can use the current ring to find the perfect size.


Option:4 (While this is an option for finding your size we strongly recommend option 2 for the fastest turnaround times.)
Order our ring sizer kit. 
Free Size Exchange
Our Ready To Ship Ring's Come With One Free Size Exchange For Up To 90 Day's, With Return Postage At No Extra Charge. * Does not apply towards custom sizes/custom styles. These can be exchange with a small restocking fee.


FAQ And Custom Engraving
Can this ring be engraved?
Yes, with 25 character limit including spaces, engraving is hand written by our master jeweler. It takes about 2 weeks to be completed. It can be purchased at this link, after you submit your order. Keep in mind that when a item is engraved it is a final sale, so if your not sure on your size and want to use our risk free size exchange policy, you can always take your ring to a local trophy shop or jeweler to be engraved after you receive your ring.
Can my ring be worn in water?
All our wood inlay rings are water-resistant by use of a durable water-resistant coating but not waterproof, as you will find with all wood inlay rings. Hand washing is just fine but these are not meant to to be worn in the shower or swimming in the ocean, you can use your free silicone ring we provide for these activities. But don't worry if you purchase our care-plan it will even cover any water damage that may occur, just in case you decide to jump into that pool at the party with your ring on.
Do You Offer Financing
We sure do! We offer several payment plan options through Affirm, and Shop Pay. Many of these plans even have 0% APR. You can apply at checkout to these plans.
Free Silicone Activity Band
*free silicone band only available while supplies last* Sizes 6-14 (black color is standard or grey alternative)
Who We Are, Since 1948
Our Roots, Family Owned Since 1948
Above was one of our first store locations, Thompson Jewelers. The photo was taken shortly after the aftermath of World War 2. Fun Fact: We used to sell toaster ovens along with fine jewelry. The store was founded Broderick's great grand father Charlie.
The Next Generation
After the retirement of Charlie, Gene who was Charlie's son took over the company and expanded to multiple locations across Florida. Fun Fact: During the 1980's our top seller was The "Mr.T Gold Chain Starter Kit."
Continuing The Legacy, Four Generations Strong
Derrick, Gene's son continued the expansion by helping his son "Broderick" start two locations "BW James Jewelers" in Tennessee. Broderick had relatives in TN, and wanted to continue the family legacy across the state. Now BW James, through its online store is able to serve thousands of customers across all 50 states.
•Risk-Free 30 Returns With Free Size Exchange's • Lifetime Ironclad Care Plan Available
Risk Free Returns And Exchanges
30 day risk-free returns from order date, and free size exchanges on all our ready to ship styles. **A re-stocking fee may apply for sizing on custom made rings.
Insurance Company Backed Lifetime Ironclad Care-Plan Available
Available For Purchase: Care-Plan covers: damage of any kind due to wear and tear, center stone and accent stone replacement due to loss or chipping and cracking, prong re-tipping, sizing or ring exchanges, refinishing, rhodium plating, and broken or bent ring shanks. This warranty extensively covers any damage you can cause to your ring with everyday wear. *please see our warranty page for for full terms and conditions.
Free Silicone Activity Band Included
Silicone Activity Band Included
*free silicone band only available while supplies last* Sizes 6-14 (black color is standard or grey alternative)
What's In The Package?
All our wood inlay rings come with:
Authentic Aged White Oak Bourbon Barrel Shaped Box
Certificate Of Authenticity When Applicable*
Risk-Free Size Exchange Instructions
Free Medical Grade Silicone Activity Band
Your Hand-Made Ring
A Cut Above The Best
Bourbon Barrel Rings
"Just because it's whiskey, it doesn't make it a bourbon." Each bourbon barrel rings is one of a kind just like your special someone who will wear it. The barrels used in the making of this ring are hand cut in heart of bourbon country Kentucky. They are made from genuine aged reclaimed bourbon barrels. *free silicone band only available while supplies last*
Ready To Upgrade Your Ring?
A Ring That They WILL NOT WANT To Take Off...
"My husband was glad to receive such a unique gift and has been enjoying wearing his ring.
Thank you for answering my questions, and thank you to your production staff for getting the ring to me in such a short time." "My husband and I recently celebrated our 5th year anniversary . Wood is the traditional gift, so I bought him the "Lexington Kentucky " black ceramic ring. It's beautifully crafted and he immediately put it on...so he obviously loves it! I can't explain enough wonderful the craftsmanship and quality of the ring truly is. The pictures online don't do the ring any justice. If you have any hesitations, DON'T…Just buy it! You will not be disappointed!!" Melissa S
Buying From Us Is Just as easy as sipping your Bourbon
Free And Fast Shipping, Risk Free Size Exchanges
All rings ship for free. Worried about sizing? All our in-stock rings come with a 90 day free size exchange with free shipping both ways.*
Durable High-Tech Water Resistant Coating. Iron-Clad Care-Plan Available
Optional Care Plan covers: damage of any kind due to wear and tear, chipping, cracking, sizing or ring exchange, refinishing.
Share Your Love For Your Favorite Kentucky Bourbon
These are not your typical rings, they tell a story of the barrel aging process to eventually becoming your favorite top shelf Kentucky Bourbon
Our Rings Help A CHILD In Need Get A HOT MEAL.

Hundreds Of Meals Served And Counting...
We donate the funds directly to Samaritan's Purse. Who is working with partner ministries to provide nutritious meals to schoolchildren in places like Bolivia and the Philippines.